VRChatとBOOTHが提携しました / Announcing a new collaboration between VRChat and BOOTH
BOOTH事務局です。
いつもBOOTHをご利用いただきありがとうございます。
このたびBOOTHでは、世界最大のオープンVRSNSである「VRChat」との提携を行いました。
その提携によって公開された3つのプロジェクトについて、以下にご紹介いたします。
【1】BOOTHのVRChat関連商品に専用バッジが表示されるようになりました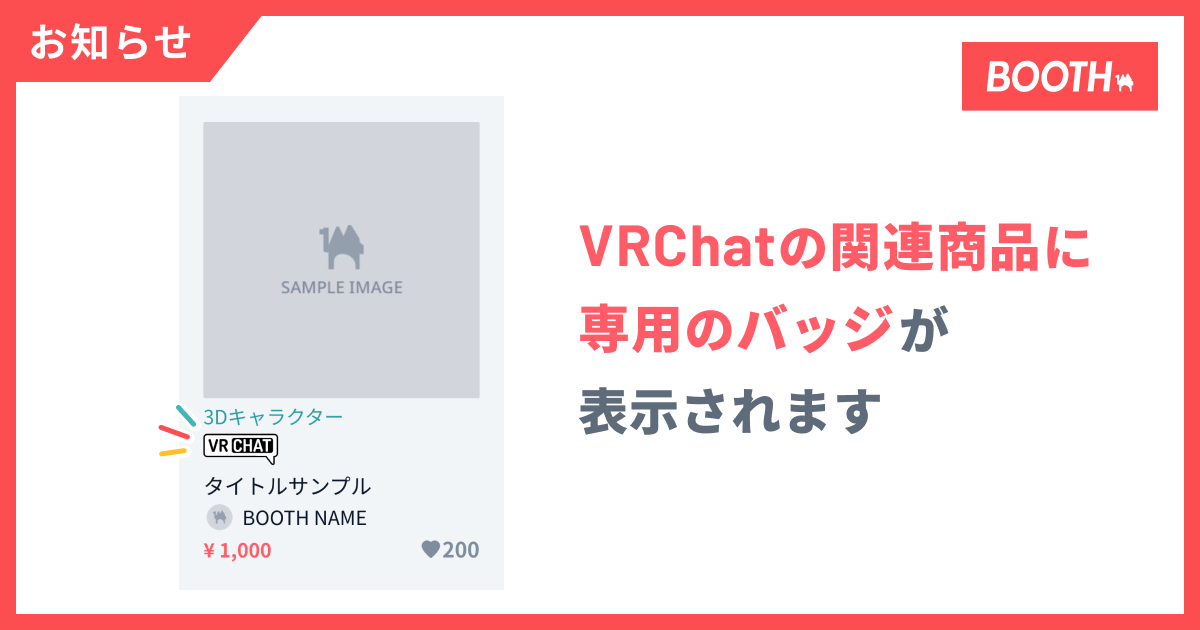 VRChatバッジは、タグに「VRChat」関連タグが含まれた全年齢向け商品に表示されます。
VRChat関連商品がもっと見つけやすくなる目印としてご活用ください。
ショップオーナー様へ
VRChatバッジを表示させるには、オーナー様ご自身に「VRChat」等、指定の「タグ」を設定いただく必要がございます。詳細はヘルプをご参照ください。
商品管理ページより、商品情報をご確認いただけますと幸いです。
【2】VRChat内にBOOTHのワールドが公開されました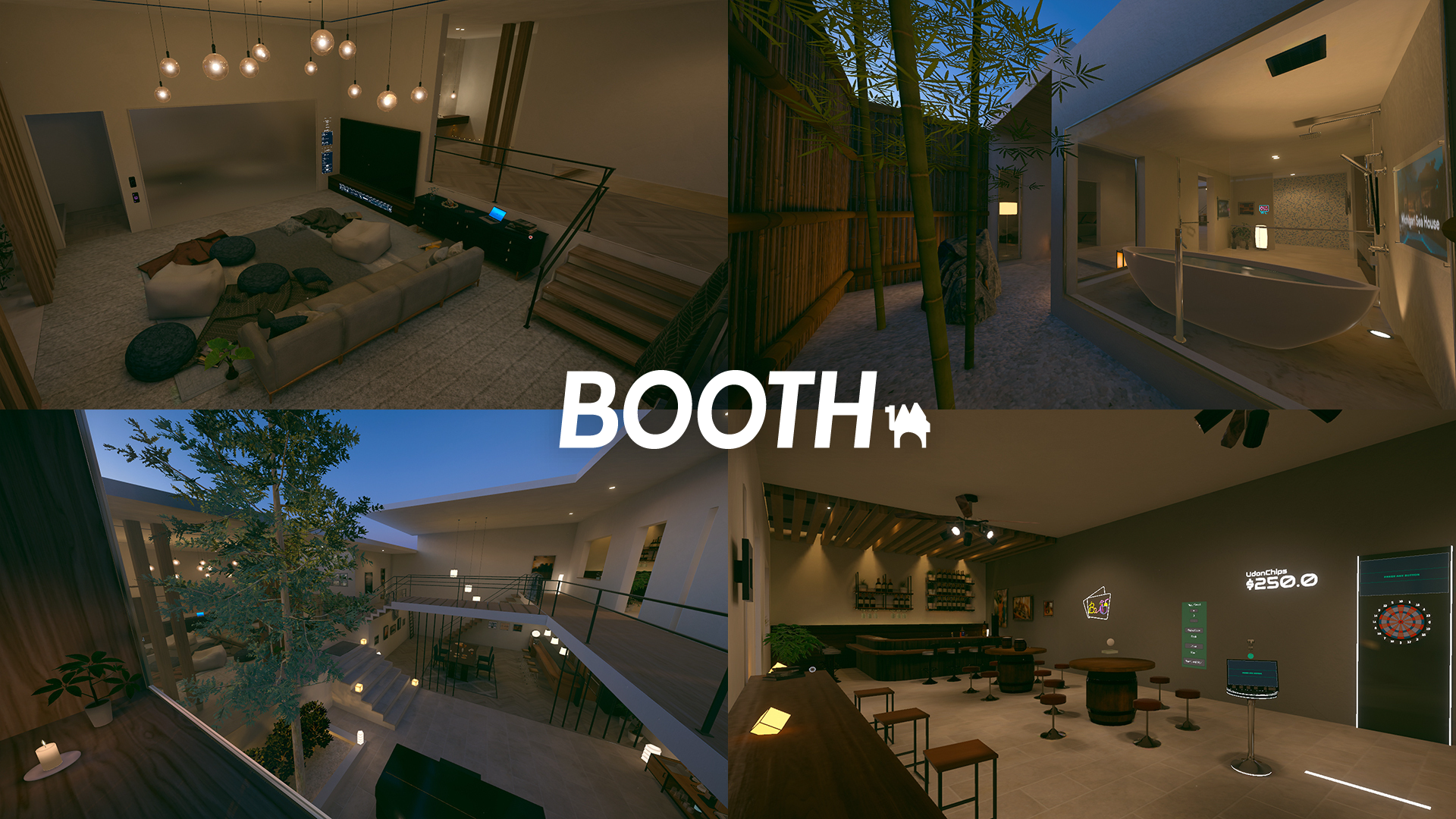 VRChat内に、BOOTH上で頒布されているアイテムのみで構成されたまったりワールド「BOOTH House」を公開しました。
家具や小物など、複数のクリエイター様の作品を組み合わせてワールドをデザインしております。
本ワールドでは、直接アイテムに触れたりできるほか、ワールド内にあるアイテムをVRChat内から遷移するBOOTHページにて手軽に購入ができるようになっています。
BOOTH House
https://vrchat.com/home/world/wrld_5906f874-5bba-4f50-b1aa-4f376d1771f2
※BOOTH HouseにアクセスするにはVRChatのアカウントが必要となります。
【3】BOOTH Houseの作品を一覧表示するBOOTH特集を公開しました
BOOTH Houseで使用しているアイテムをBOOTH特集としてまとめました。ワールド内で気になったアイテムがあった場合、この特集からすべてのアイテムを見ることができます。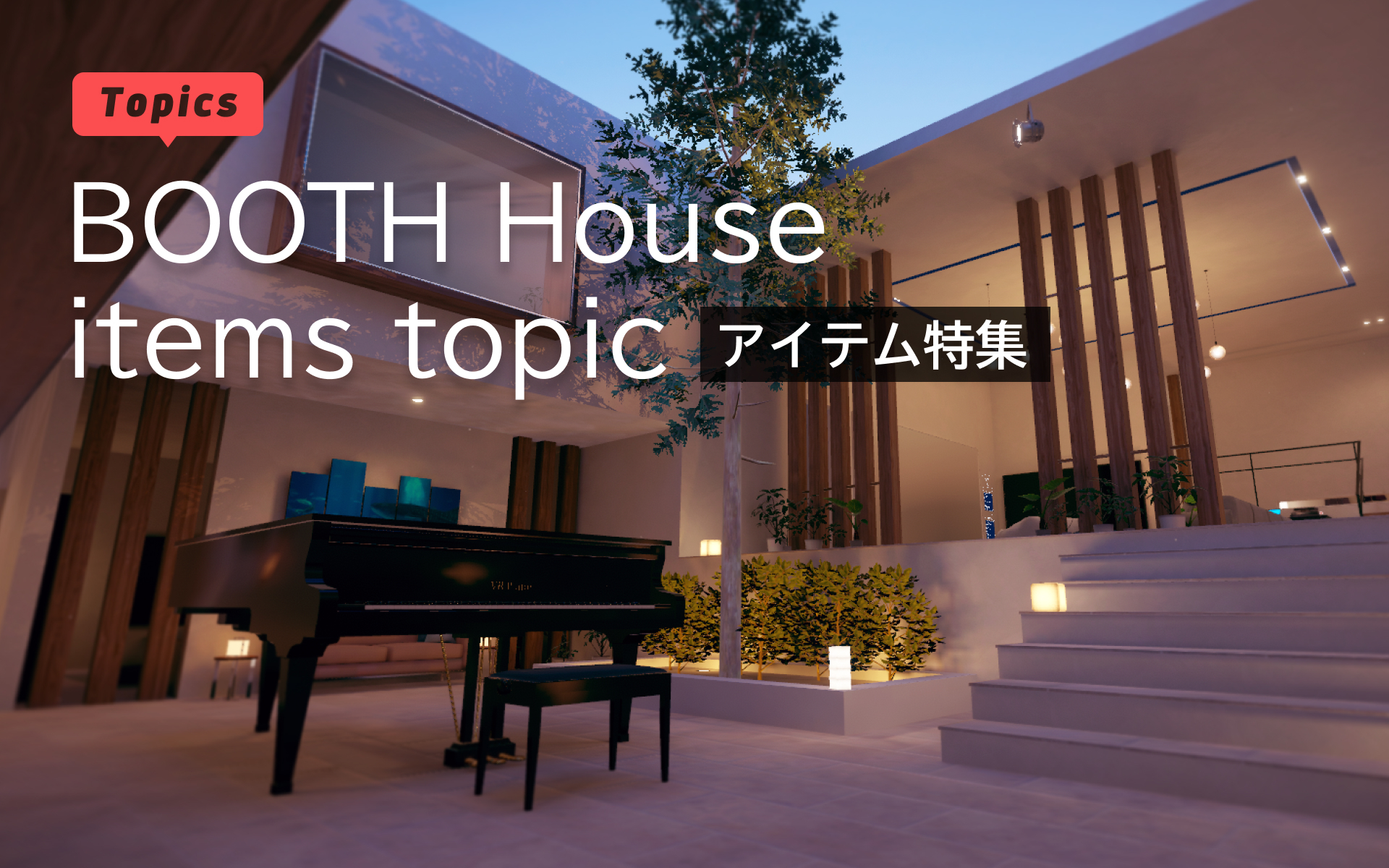 BOOTH House特集
https://booth.pm/topics/BOOTH_House
今後ともBOOTHをよろしくお願いいたします。
====================================
Greetings from BOOTH.
Thank you for using our service.
VRChat, the world's largest social VR game, and BOOTH have announced a new collaboration. This partnership has brought forward three projects.
【1】 Exclusive badges are now displayed on products for VRChat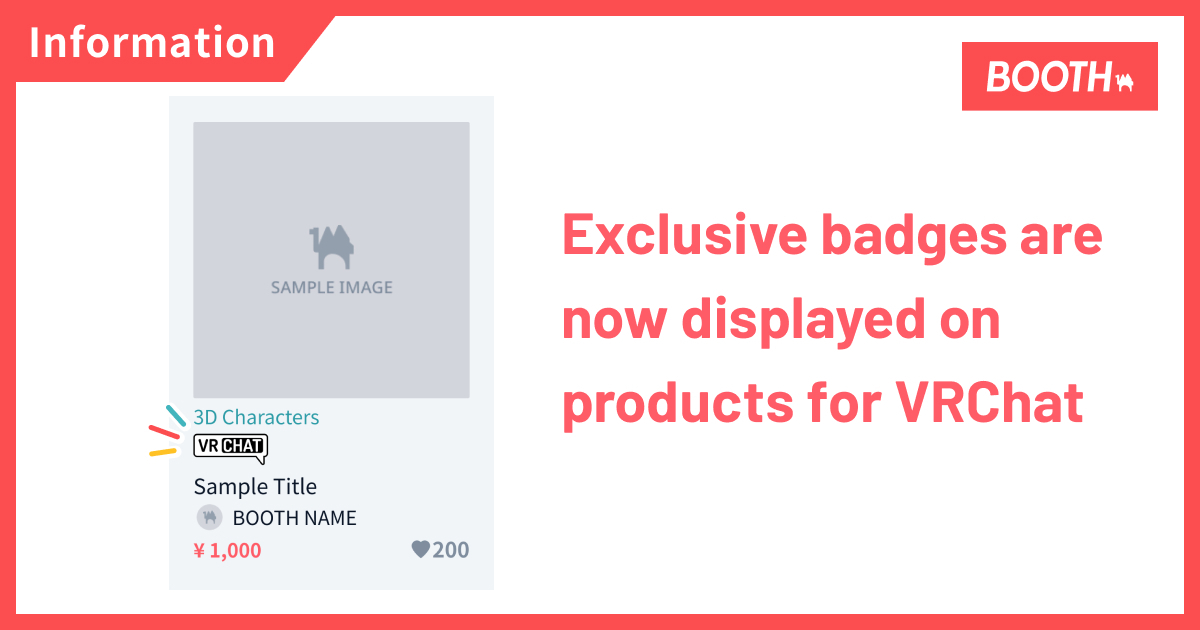 The VRChat badge appears on all-ages products that include VRChat-related tags.
Finding items to use in VRChat has never been easier!
A message to shop owners
To have the VRChat badge appear on your items, you must tag them yourself (for example, with VRChat). Refer to this article to learn more.
View and edit your products' information from Manage Items.
【2】 The official BOOTH World is now available in VRChat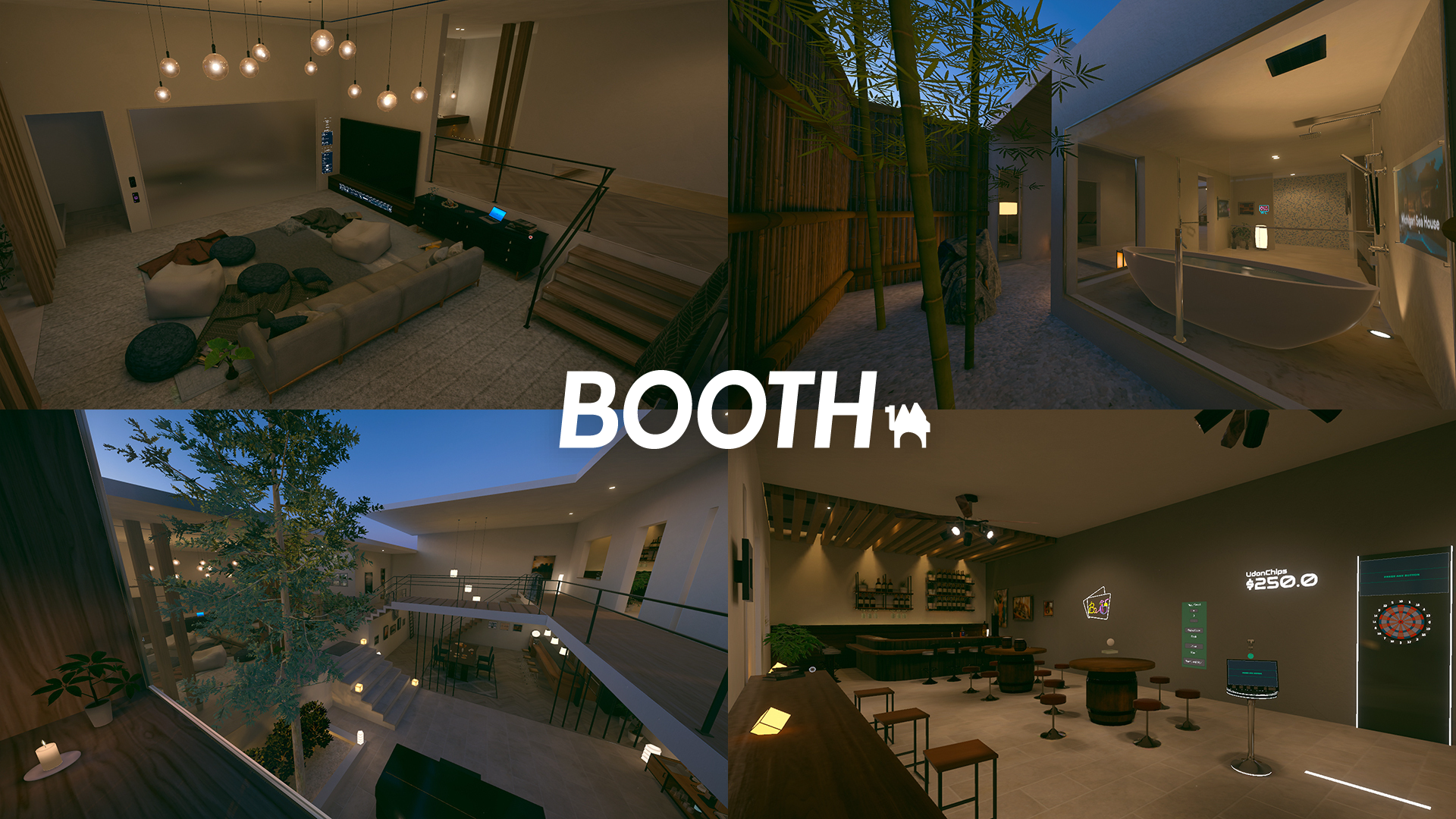 BOOTH House, a cozy World made entirely of items distributed on BOOTH, is now available in VRChat.
The World was designed by combining the works of several creators, including furniture and accessories.
Get a firsthand look at the items and easily purchase them on their BOOTH page, which is accessible directly from VRChat.
BOOTH House
https://vrchat.com/home/world/wrld_5906f874-5bba-4f50-b1aa-4f376d1771f2
* A VRChat account is required to access the BOOTH House.
【3】 A BOOTH topic listing all the items appearing in BOOTH House is now available
BOOTH House items are now listed in a BOOTH topic. If you see something in the World that you like, you can find it here.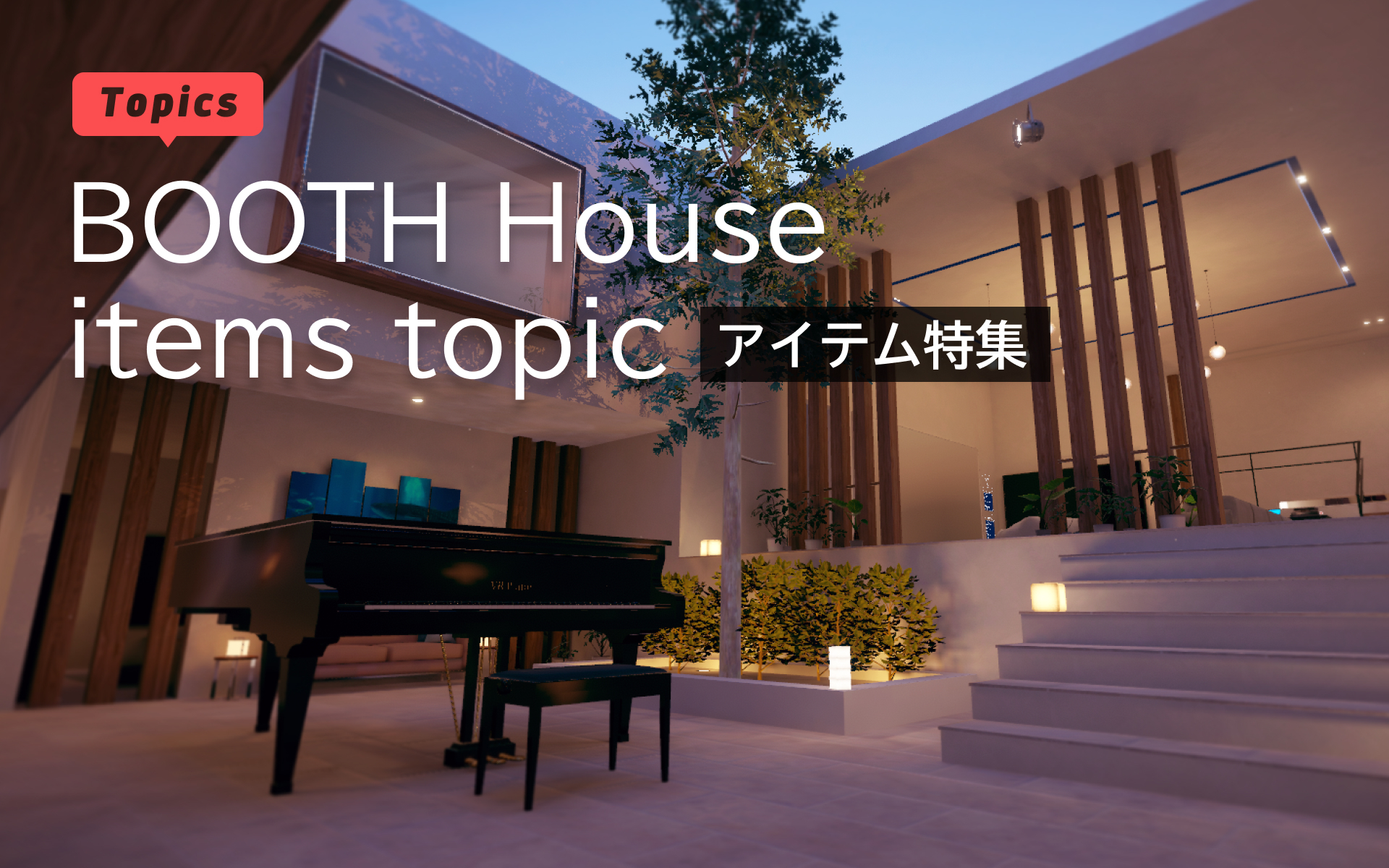 BOOTH House topic
https://booth.pm/topics/BOOTH_House
Thank you for you patronage with BOOTH.