1. Voice Content Pertama Nagisa Arcinia

1,500 JPY

2. Voice Content Pertama Derem Kado

1,500 JPY

3. Voice Content Pertama Reza Avanluna

1,500 JPY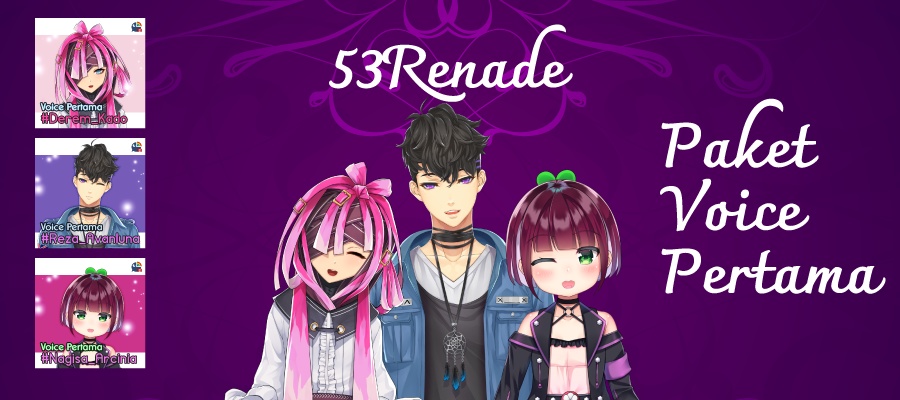 Halo semuanya! Kali ini kita telah mempersiapkan voice content dari unit virtual liver NIJISANJI ID yang ke lima, 53renade! Setiap Liver menyiapkan 10 voice content, tiap file berdurasi sekitar 1~2 menit. [Paket Komplit 53renade] Isi voice content adalah kumpulan dari voice masing-masing Virtual Liver: Nagisa Arcinia, Derem Kado, Reza Avanluna. Tolong cek apakah anda memilih voice contents yang sesuai dengan yang anda inginkan. Kami tunggu kesan anda mengenai voice content kami dengan hashtag: #53renade dan #NIJISANJI_ID di Facebook dan Twitter! Notice: The voice recordings are in Indonesian, please check the file names before buying.
Daftar Isi
1. Voice Content Pertama Nagisa Arcinia 2. Voice Content Pertama Derem Kado 3. Voice Content Pertama Reza Avanluna 4. Paket komplit 53renade
File
Format suara: mp3 Compressed format: zip
Cara membeli
Berikut adalah petunjuk dari kami untuk melakukan pembelian voice content di website BOOTH: https://www.facebook.com/nijisanji.indonesia/posts/605005696976873
Cara download
Data dari voice tersimpan dalam format zip. Produk yang sudah dibeli dapat diunduh melalui e-mail konfirmasi pembayaran dan riwayat pembelian yang ada di akun website BOOTH kalian. Untuk file dalam format zip, mungkin akan dibutuhkan software tambahan untuk melakukan dekompresi dari file (unzip). Berikut adalah contoh dari software untuk dekompresi file berformat zip: Windows OS: 7zip (https://www.7-zip.org/) Mac OS / iOS: WinArchiver Lite (https://itunes.apple.com/us/app/id414855915) iZip (https://itunes.apple.com/us/app/id413971331) Android: Total Commander (https://play.google.com/store/apps/details?id=com.ghisler.android.TotalCommander&hl=en)