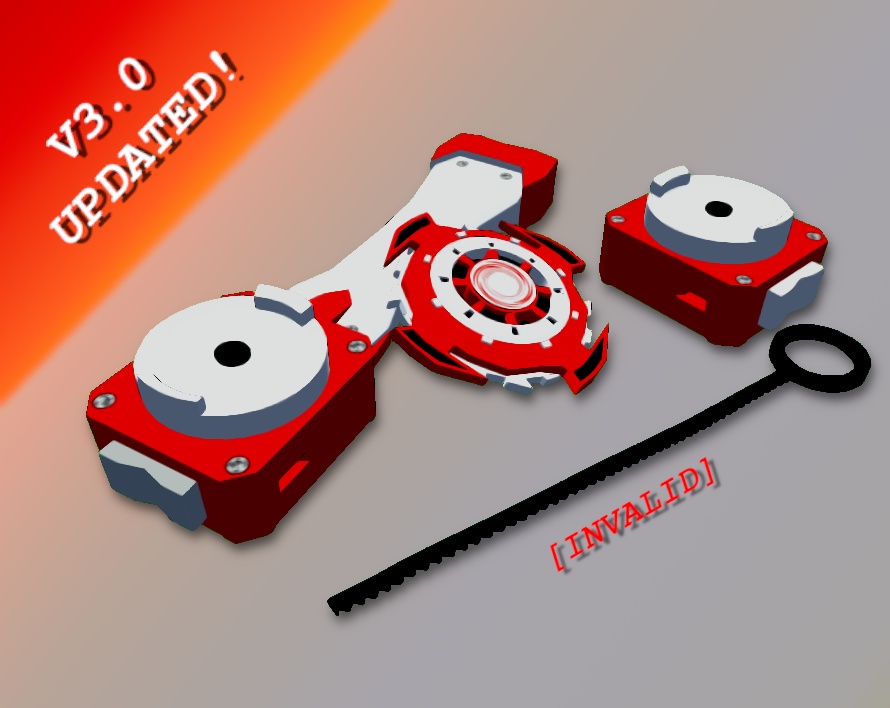 I have created this unity package prefab by request of many people that saw my reddit post showing off my spinblade on VRChat. Within this package includes prefabs for a hand held launcher, a wrist mounted launcher, spinblade, and ripcord. It also includes an animation controller, pre-made animations, and guidance to setup the launchers on your avatar. The launcher is activated by inserting the ripcord into the launcher (while holding fist gesture on either hand, to prevent accidental release), and then pulling the ripcord to release the spinblade. A text document (called 'Read Me') will also be included in the package, please read it carefully.
-DISCLAIMER-
Due to the nature of how this is made, being that the launched spinblade is actually a particle, do not expect it to collide with other spinblades. This was only meant to be a fun little gimmicky toy for VRChat and that is it. Also, since the spinblade particle is physics based, and physics calculations aren't synced across all users, the location of the spinblade will vary from user to user. And lastly, this package is *not* Quest avatar friendly.
-ASSET RATINGS-
Parameter memory cost: 2 Skinned mesh renderers: 2 Mesh poly count: 4,188/3,626 Material slots: 6 Particle systems: 2 Mesh particle total max poly count: 1,948 Audio sources: 1 Expected SDK performance rating: Medium
-REQUIREMENTS FOR INSTALL-
FX controller that does not use mixed Write Defaults. Either all on, or all off. I do not provide support for mixing Write Defaults. Poiyomi Toon Shader (version 8.0/1). VRCFury -Links for PoiyomiToonShader and VRCFury can be found in the description of the Youtube tutorial- *If updating from an older version, all previous assets must be removed from project as well as removal of all controller layers, parameters, and objects associated with the asset from the avatar.
-UPDATES-
[Change Log] {v3.2} Updated asset to utilize VRCFury for installation. {v3.1} *Added a seperate mergeable Write Defaults controller for avatars that use Write Defaults. *Simplified and cleaned controller state machines. *Fixed the animation for the launcher without the handle. The part of the launcher that holds the spinblade wouldn't spin when the spinblade was launched. Now it does! *Updated tutorial video. {v3.0} *The ripcord will now deform upon inserting it into the launcher (without needing 3rd party scripts!). *New contacts have been set up so that the ripcord directly interacts with the launcher; when inserted and pulled out, the spinblade will be released, giving it a much more authentic feel. *Small texture update (Spinblade and launcher color can be adjusted via shader color hue shift.)
-SUPPORT-
Discord: Check 'Read Me' document for invite link. Twitter: https://twitter.com/invalidictorian
-TERMS OF USE-
By downloading this asset, you have accepted and agreed upon the terms of use and licensing: -All purchases are FINAL. (No refunds) -For personal use ONLY. -Not to be taken and sold on it's own. -Not to be used commercially, or for financial gain. -Not to be used to promote a business or platform of financial exchange for goods (physical and non-physical) and services. -Assets are not to be distributed or shared with those who have not purchased them under any circumstance. For commercial usages or questions about these terms, please contact me.